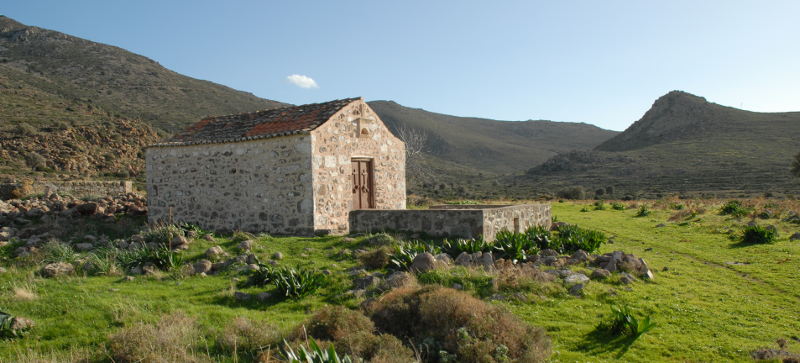 MARATHONAS – KAPOTIDES – PACHIA RACHI – ELAIONAS – MARATHONAS
5.8 km / 3 hours (circular route)
Degree of difficulty: easy / moderate
Starting point: Marathonas Beta beach
Beware of the dogs: We have been told that dogs by the sheep and goat pens towards Aeginitissa, can be aggressive.
Download file:
3-marathona_pahiarahi.gpx
From the second beach at Marathonas, we take the paved road towards the town. After 200m, the small wetland of Marathonas can be seen on our left, where migratory birds find temporarily rest on their long journey. Small wetlands on the islands are very important during the periods when the large wetlands of northern Greece are frozen. After 100m, we turn right towards the mountain to reach the dirt road that will take us to the starting point of the path to the old settlement of Kapotides, where we will arrive in 35′. This was where the last stonecutter lived until recently who carved the famous Aegina millstones for export to the Aegean islands.
Photos 1-7: HP
We go up the slope on the right towards Pachiorachi or Pachia Rachi, listed as a traditional settlement since 1996, with its stone houses and stone-paved streets. This was an old crop and livestock farming village formed before the Greek War of Independence (1821).
After passing the church of St Dionysios (built in 1813), we turn right and take the downhill path by the stream. The area is characterised by a wealth of biodiversity. (There are juniper trees, wild asparagus, wild lavender, felty germander, nigella et.c). In 30′ we reach the Elaionas Valley, a majestic olive grove of 1,500- to 2,000-year-old trees. The path passes by the church of the Holy Trinity (Aghia Triada), with its antique closed stone water tank and water troughs for animals carved in brownstone, before leading to some of the most impressive olive trees in the grove. Each is a unique living sculpture. Taking the time to explore them is a rewarding experience.
From Elaionas we descend to the Marathonas beach, where we arrive after 50′, passing by farmland towards the end of the route; on the left, we can see the Kakoperatos Hill, where the brownstone used for making the famous Aegina millstones was extracted.