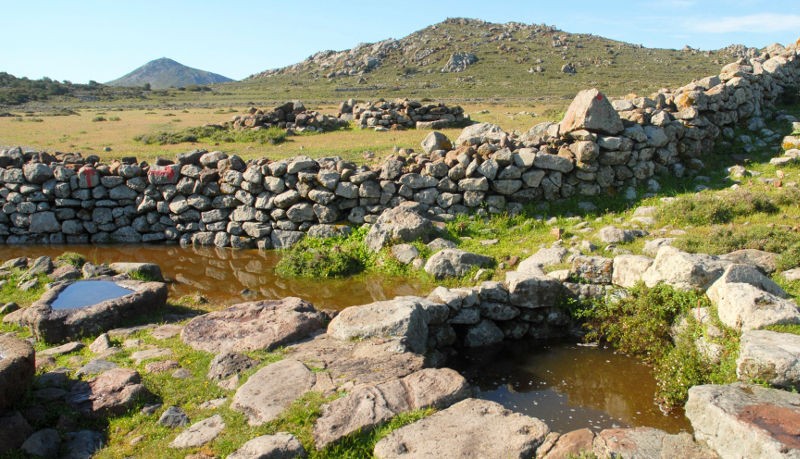 PACHIA RACHI – CHRYSSOLEONTISSA – PACHIA RACHI
6 km / 2 hours 30 mins (circular route)
Degree of difficulty: easy / moderate
Starting point: Pachia Rachi or Chryssoleontissa Monastery
Download file:
4-2017-11.gpx
From Pachia Rachi we walk 800 m east on a stone-paved path. The uphill path starts at the cemetery and leads to the monastery of Panagia Chrysoleontissa on a plateau in the centre of Aegina. According to local tradition, the monastery was originally built at a coastal location, which made it vulnerable to pirate raids. In the early 17th c., it was moved to a sheltered area, invisible from the sea. The fortified monastery complex includes a crenelated tower (1601) and a church built later (1808) in the courtyard centre.
Photos 1-6: HP
Initially, the path is uphill, of moderate difficulty, and offers breathtaking views to the western side of the island and the Saronic Gulf. Once on the hill, the path is flat and easy. Turning right, to the east, we arrive at the hill-surrounded plateau of St. Leontios. It is circular, with a diameter of about 300 m and an altitude of 370 m. A large number of potsherds and an old kiln have been discovered in the area.
On the eastern side of the plateau there is the chapel of St. Leontios, built on ancient ruins in the 17th c. The saint was born in the 1st c. on Aegina. The area is called Bourdechtis (a corruption of the Greek word omvrodektis – rainwater collector) because there is a small aqueduct near the chapel, which consists of a system of underground chambers, galleries and three wells cut into the bedrock at a maximum depth of about 6 m.
Turning left at Bourdechtis, a very easy path now takes us straight to the Chrysoleontissa nunnery. A small detour to the left brings us to the monastery's large threshing floor, of 20 m diameter, which dates from the agricultural heyday of the region and offers wonderful views of the northern Saronic Gulf, Paliachora and the Monastery of St. Nektarios.