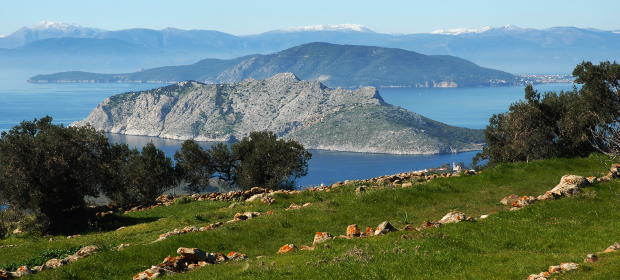 SFENTOURI – "SOUVALA" ACHLADA – ELAIONAS
3 km / 1 hour 15 mins
Degree of difficulty: easy
Starting point: Sfentouri

Download file:
2-sfentouri-elaiona.gpx
North of the settlement of Sfentouri starts a cobblestone path that passes through terraced fields of olive trees. Walkers will enjoy the view west (Perdika, Moni, Methana) and, after passing by two beautiful chapels, will reach a large stone threshing floor. In a few minutes, the path ends at "souvala" Achlada. Traditional stone-built water cisterns (locally known as souvala) were used to collect rainwater for the inhabitants and the animals.
photo 1: Νεφέλη, 2-4: HP
From Achlada, making a short detour through a steep, rocky path one can reach the so-called "Drakospita" (Dragon Houses), or "Plakota", partly underground stone buildings roofed with large, flat stone slabs. Perfectly adjusted to the environment, they are of great historical and scientific interest.
Heading north from Achlada, there is a downhill dirt path to the ancient olive grove, a place of rare beauty boasting a wealth of flora and fauna (herbs, wild greens and flowers, wild rabbits, horses, butterflies…). It is the unique landscape identified with Aegina's tallest mountain, the "Oros" (Mount) and its rich folklore.
Protected by the surrounding mountains, the area resembles a natural basin that collects their water, thanks to which the impressive, millennium-old olive trees have survived. The trail ends at the church of the Holy Trinity (Aghia Triada), with the old, closed, stone water tank and the water troughs for the animals, carved in brown stone, the precious local mavropetra.
NOTE: If you do not wish to return by the same path, you can continue to Pachia Rachi or Marathonas by Path 3.