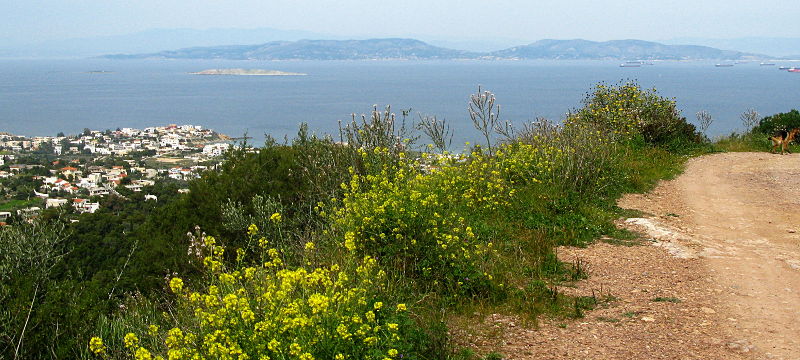 5.2 km / 30 mins (bike)
5.2 km / 2 hours 15 mins (hiking route)
Degree of difficulty: easy
Download file:
8-podilatiki-diadromi.gpx
Before we start on the cycling or hiking route we can visit Paliachora and its churches. Palaiochora, became the island's capital from the 9th c. until the 19th, at the time when the inhabitants sought shelter from Saracen, Ottoman and other pirate raids.
The route starts on the downhill asphalt road and after 700 m turns right on a forest road heading east through the pine forest. Besides the pine trees, we are welcomed by juniper (Juniperus), sage (Salvia officinalis), thyme (Thymus capitatus), felty germander (Teucrium polium), and astragalus.
In this area, as in all the pine-forested mountainous areas of the island, the inhabitants collected resin and traded it for use in winemaking and the production of turpentine, an oil-paint solvent. This type of pine (Pinus halepensis) offers significantly larger production than any other species. Resin collection and mixing with wine for flavour and preservation is an age-old practice. During the Greek War of Independence (1821), Aegina became the main resin supplier for boats and fire ships.
At the end of the forest road, the asphalt road to the right takes us to the village Mesagros. Here lies the island's fertile central plain, where, according to tradition, the comic poet Aristophanes owned land.
Mesagros has been a renowned Aegina pottery centre since ancient times. A large number of workshops used to operate in this area, which found the raw material for clay on the slopes of the surrounding mountains; today, two traditional workshops exist in the village that still manufacture utility and decorative clay objects. The famous Aegina jugs keep water cool thanks to their porosity and were a popular summer water "fridge" in the past all over Greece. Mesagros lies a few kilometres from the Temple of Aphaia.