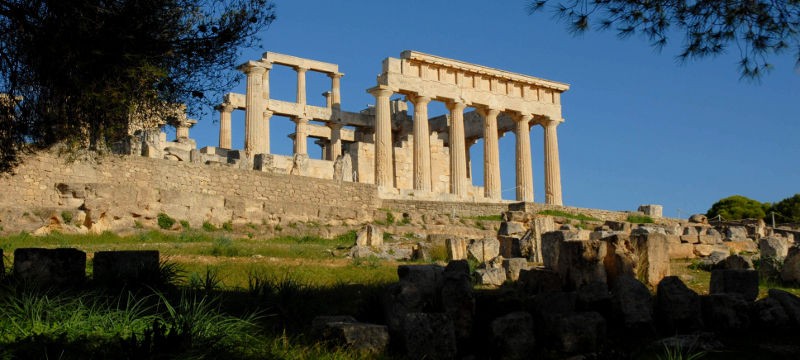 MESAGROS – APHAIA'S TEMPLE
2.5 km / 50 mins
Degree of difficulty: easy / moderate route
Download file:
9-Mesagros-Aphaia.gpx
The route starts on the downhill asphalt road and after 200 m turns right, along the path heading east in the stream — an area of a fragile ecosystem and extraordinary biodiversity. Besides pine trees, we are welcomed by sage, thyme, felty germander, thorny calycotomes and rockrose.
In this region, as well as in all the pine-forested mountainous areas of the island, the inhabitants collected and traded resin for use in winemaking and in the production of turpentine, an oil-paint solvent. Resin collection and mixing with wine for flavour and preservation is an age-old practice. During the Greek War of Independence (1821), Aegina became the main resin supplier for boats and fire ships.
Photos: HP
The path leads to a dirt road which ends at the main asphalt road, which we walk across. We now find ourselves in the main area of Aegina pottery production. Many workshops operated in the area, which sourced the raw material for clay from the slopes of the surrounding mountains; today, two traditional workshops still exist in the village and manufacture utility and decorative clay objects. The famous Aegina jugs keep water cool thanks to their porosity and were a popular summer water "fridge" in the past all over Greece.
The uphill path starts among vineyards, crosses dense pine forest and ends at the ancient temple of Aphaia. The temple of Aphaia, one of the most ancient and best preserved in Greece, is a Doric, peripteral hexastyle temple with twelve columns on the flanks and six at each end. It was built with local porous limestone around 500-450 B.C. The pediments were of painted marble and they depicted the two phases of the Trojan War; heroes from Aegina participated with distinction in both: men such as Telamon, son of the mythical hero Aiakos, and his descendants Ajax, Teukros and Achilles. The goddess Athena also occupies a central position in both pediments. These sculptures are now on display in a Munich museum. Copies can be seen in the small museum next to the temple.