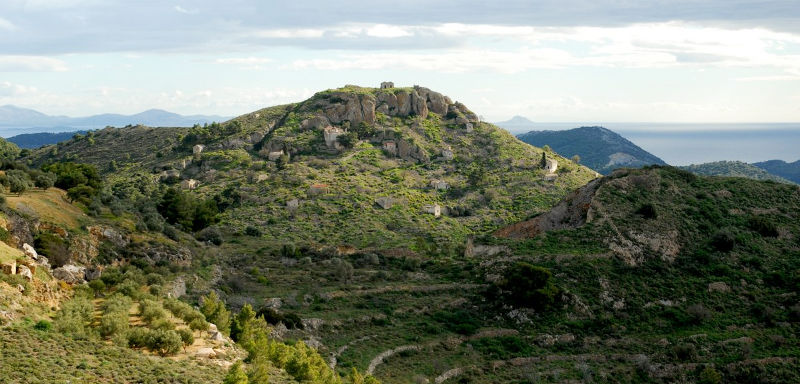 1.2 km / 40 mins (circular route)
Degree of difficulty: easy / moderate towards the castle

Download file:
7-palaia_chora.gpx
Palaia Chora became the capital of the island in the 9th c. AD due to the fact that the coast was exposed to the incursions of the Saracens who had occupied Crete. In 1537, Barbarossa, an Ottoman pirate, completely destroyed the city. Three years later, life had returned. The site was inhabited for 1000 years, until the early 19th century and the Greek War of Independence (1821).
Photos: HP
Today, 35 stone churches survive. They are listed on a sign posted by the Ephorate of Byzantine Antiquities, which you will come across on the way. To get into the wonderful "Little Mystras" of Aegina, we take the dirt road behind the church of the Cross (Stavros) and continue in the same direction on the trail around the hill.
Passing in front of the churches, we enjoy the view to the monastery and the church of Agios Nektarios; the western Saronic Gulf can be seen in the distance. Then, the trail turns south-east, providing an opportunity to see the forest of Messagros, the unique geological formations on the back side of the hill and the view to the eastern Saronic Gulf and Cape Sounion. After the church of St John the Theologian (Agios loannis Theologos), we take the ascending path on the left. We pass by the small monastery of Agia Kyriaki, whose katholikon has been restored by the Elliniki Etaireia — Society for the Environment and Cultural Heritage, sponsored by the Stavros Niarchos Foundation, and climb to the old fortress site. Here, we admire the church dedicated to the saints George and Demetrios, and the rainwater tanks — a vital resource for survival in times of siege.
The descent is by the same route at first; we soon turn right at the second path around the hill, located beneath the giant rocks of the fortress. We pass by the hermitage of Saint Dionysios, the restored Diocese (Agios Dionysios) and the central square of the settlement, called Agora, or Forum by the Venetians, dominated by Saint George of the Catholics (or Panagia Foritissa), which was restored by the Elliniki Etaireia — Society for the Environment and Cultural Heritage, sponsored by the A.G. Leventis Foundation. The steps after the square take us to the level where we started.
The fragrant almond trees, the pines in the courtyards of most churches, the impressive euphorbias dominating the hill, the many beautiful wildflowers along the trails, all contribute to the unique beauty of the Old Town and make us aware of Aegina's wealth of flora.