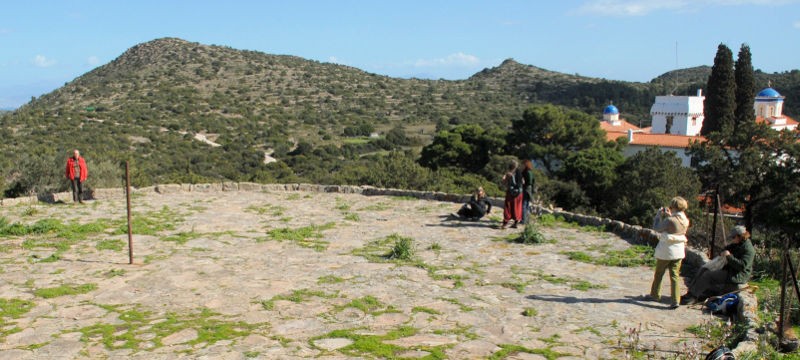 SKOTINI – TZIKIDES – CHRYSSOLEONTISSA
5.8 km / 2 hours 30 mins (5 hours return)
Degree of difficulty: easy / moderate

Update:
The introductory panel and start signpost at route 6 are missing. (stolen?).
The path starts on the left of the Skoteini Bridge.
Download file:
6-pagoni-chrissoleontissa.gpx
This east-heading route, on a dirt road at first, follows the stream of Skotini (ancient name Asopos), an important aquatic reserve in an island that has always suffered from water scarcity. The stream enriches the aquifer with natural and artificial mounds; there used to be a watermill, too, here. The water comes from a large plateau in the centre of Aegina, ​​St. Leontios, and the monastery of Chrysoleontissa.
Photos: HP
Walking by the stream, we pass by a tall oak tree and then below the village Freatsi (from the ancient Greek word for well – frear). In this fertile region there was a water source, a threshing floor, a wine press, and other characteristic elements of the self-sufficiency of rural settlements in earlier times. Here ends the easy dirt road, and the route continues on a trail.
We cross the stream to the opposite bank. The area is full of lush vegetation and rich biodiversity, with tall shrubs and trees, such as wild pear trees (Pyrus), junipers (Juniperus), shrub oaks (Quercus coccifera) and lentisks (Pistacia lentiscus). Creepers, such as evergreen clematis (Clematis cirrhosa) and smilax (Smilax aspera), climb on the trunks. We enjoy the scent of low shrubs, such as wild lavender (Lavandula stoechas), thyme (Thymus capitatus), felty germander (Teucrium polium) and rockrose (Cistus). With a little luck, we may also admire wild orchids, wild hyacinths and irises. The presence of long-legged buzzards (Buteo rufinus), large birds of prey, indicates the region's ecological equilibrium.
The route continues southwest, with stunning panoramic views of the harbour and the Saronic Gulf, passing the outskirts of the village of Tzikides, first on a dirt road/concrete road and soon on an uphill path once again, which leads us first to the large threshing floor (20 m. diameter) and then to the monastery of Chrysoleontissa.
The monastery is fortified against pirates and features a crenelated tower (1601). In the centre of the courtyard, there is a church, built later (1808), with a wooden iconostasis and a silver-plated icon of the Virgin Chryssoleontissa.